Dane Cameron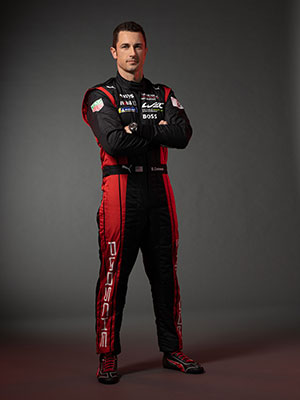 A champion sports car racer that has competed with Team Penske over the course of four seasons, Dane Cameron will help lead the Porsche Penske Motorsport effort in its debut season in 2023.
Cameron, three-time IMSA WeatherTech SportsCar champion, will drive the No. 5 Porsche 963 LMDh in the World Endurance Championship (WEC) this season, sharing driving duties with veteran sports car racers Michael Christensen and Frederic Makowiecki.

One of the most consistent and productive champs in North American sports car racing, Cameron returned to Team Penske in 2022 to contest a limited schedule in WEC with another former IMSA WeatherTech SportsCar champion and current PPM teammate, Felipe Nasr, as well as Emmanuel Collard.
Cameron, who earned four victories, five poles, 17 podium finishes and the 2019 IMSA Daytona Prototype international (DPi) championship, alongside teammate Juan Pablo Montoya, during his three seasons racing for Team Penske in IMSA competition. Cameron joined the Team Penske DPi program in 2017 after three successful seasons with Action Express Racing, which included winning the 2016 IMSA Prototype Championship. Cameron also captured the 2014 IMSA GT Daytona class title.
A native of Glen Ellen, Calif., Cameron has always felt at home at a racetrack as his father, Rick Cameron, is a race engineer with over 40 years of experience in motorsports. For several years, the two competed against each other in the IMSA Prototype class, with the elder Cameron serving as the lead engineer for other series teams. Growing up with a race-winning engineer as a father, Cameron has always brought a unique knowledge of car setups and how to maximize performance to his skill set as one of the world's top sports car drivers.
Cameron's racing career began in karting and advanced to cars in 2005 when he produced six race victories and won the Formula Russell Series championship as a rookie. In 2006, he finished as runner-up in the F2000 National Championship and earned a Team USA Scholarship to participate in the Formula Palmer Audi Autumn Trophy in Europe, which he won.
In 2007 Cameron competed in the Star Mazda series and captured the title with three race wins. He also made his sports car racing debut, driving for Chip Ganassi Racing in a Daytona Prototype. He graduated to the Champ Car Formula Atlantic open wheel series in 2008 – as he scored a second-place finish from the pole in his debut race. Cameron switched his full-time focus to sports cars in 2009, competing in the Rolex Series GT class while driving the Racers Edge team. He scored six top-10 finishes while racing with 10 different co-drivers.
By 2011, Cameron began to make his mark – earning the pole, fastest race lap, most laps led and a race victory for Genoa Racing in the LMPC class at Sebring. He also finished seventh in the GT point standings for Dempsey Racing. In 2012, Cameron scored his first Grand-Am Rolex Series GT win on his way to finishing sixth in the GT standings for Team Sahlens. Cameron also made two American Le Mans (ALMS) starts with Dempsey Racing in LMP2 and recorded the fastest LMPC lap at Sebring.
For 2013, Cameron graduated to a full-season Daytona Prototype class opportunity with Team Sahlens. Cameron's speed was impressive as he won the pole and dominated the race at Road America before suffering a driveshaft failure. He also earned the pole and led laps in the final prototype race at Lime Rock Park. Cameron joined the PR1 Mathiesen Motorsports team for the final four races of the ALMS season to co-drive with Mike Guasch. Cameron made his presence felt immediately as he captured three poles and produced superb race stints to help clinch the LMPC class championship.
In 2014, Cameron dominated the GTD class championship in the newly-formed IMSA WeatherTech SportsCar Championship and he quickly ascended back to the Prototype level, where he produced as one of the sport's top competitors for seven consecutive seasons.
Cameron's hobbies include cycling and turning laps at the Go-Pro Motorplex in Mooresville, NC. He and his wife Sarah reside in Charlotte, NC with their two sons.