Laurens Vanthoor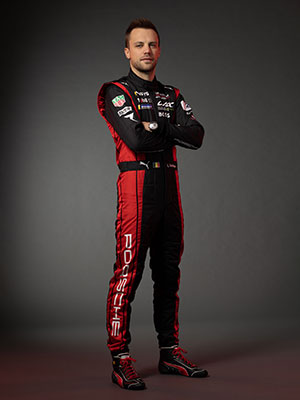 In 2023, Laurens Vanthoor joins Porsche Penske Motorsport for its debut season in the World Endurance Championship. Vanthoor will drive the No. 6 Porsche 963 LMDh entry, racing alongside drivers Kevin Estre and Andre Lotterer.

For the 2017 season, two dreams came true for Laurens Vanthoor – he became a Porsche works driver and he drove the 911 RSR in the IMSA WeatherTech SportsCar Championship in North America.

The Belgian already turned heads in the 2016 season: He scored a spectacular win in the FIA GT World Cup in Macau. In the Intercontinental GT Challenge, too, he secured overall victory and also won the Dubai 24 Hours and the Sepang 12-hour race. In 2014, he demonstrated that he not only shines at individual races. That year he won the Spa 24 Hours and clinched overall victory in the Blancpain Endurance Championship and the Blancpain GT Series.

In 2018, Vanthoor added another impressive achievement to his CV: victory at the 24 Hours of Le Mans. The Belgian notched up his greatest triumph in 2019: with Earl Bamber, he secured the IMSA WeatherTech SportCar Championship title.

In 2020, the pair claimed the first class victory for the Porsche 911 RSR at the Laguna Seca racetrack in the USA. Vanthoor was also part of the winning trio at the Spa-Francorchamps 24-hour race.

In 2021, the Belgian clinched the GTD-class title in the IMSA WeatherTech SportsCar Championship.