Michael Christensen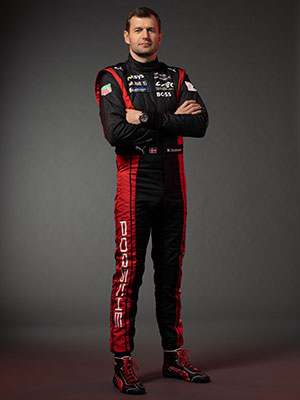 In 2023, Michael Christensen joins the Porsche Penske Motorsport program, contesting the full World Endurance Championship season behind the wheel of the No. 5 LMDh Porsche 963. Christensen will be paired with Dane Cameron and Frederic Makowiecki for the No. 5 driver lineup.

Working with current PPM teammate Kevin Estre, Christensen finished second in the WEC GTE Pro class last season. Christensen and Estre secured class wins from the pole at both the 1000 Miles of Sebring and the Six Hours of Fuji in 2023. The performance paved the way for Danish Porsche works driver to join PPM in its maiden WEC season, racing the hybrid Prototype Hypercar.

One of the early defining moments of Christensen's career happened in the fall of 2011. Going up against many other talented young drivers from around the world, he shined during a grueling selection process and was accepted into the Porsche Junior youth development program. Christensen continued to excel as he joined the Porsche Carrera Cup Deutschland in 2012.With consistently good performances and a win at Hockenheim, he grabbed his chance and climbed the ladder into the Porsche Mobil 1 Supercup.

In 2013 he promptly won the rookie classification and he claimed a race victory at Nurburgring. The strong Supercup results earned Christensen an opportunity as a Porsche works driver, beginning in 2014. In his rookie season as a works racer, Christensen promptly won the 12 Hours of Sebring.

In his first WEC season, Christensen posted three GTE Pro class victories in 2015. He continued to race in both Europe, as well as the U.S. in 2017 and the following year he broke out with a GTD class victory in IMSA's Rolex 24 at Daytona before earning a class runner-up result in the Petit Le Mans season finale at Road Atlanta.

The 2018 season broght more success for Christensen as he won the GTE Pro class at the 24 Hours of Le Mans. Returning to WEC competition in 2019, Christensen was part of the winning class effort at the 24 Hours of Spa. Christensen tied for third in the 2020 GTE Pro class championship behind a pair of victories and in 2021 he won the 24-Hour race at Nurburgring in WEC and finished second in class at Petit Le Mans.

In addition to racing the Porsche 963 in WEC this season, Christensen will also compete in the IMSA WeatherTech SportsCar Championship endurance races, joining Felipe Nasr and Matt Campbell on the No. 7 Porsche.