Felipe Nasr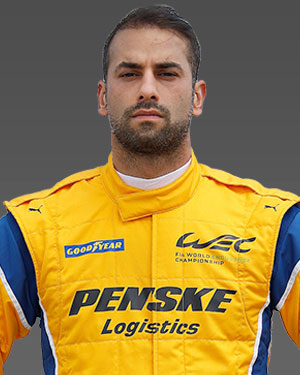 With an impressive resume spanning the globe, Brazilian driver Felipe Nasr joins the growing Team Penske sports car program in 2022, ready to write the next chapter of his accomplished racing career. The 29-year-old native of Brasilia, Brazil brings a wealth of success and experience to one of the most storied motorsports organizations in history.
With two IMSA WeatherTech SportsCar Championship Prototype class titles under his belt (2018 and 2021), Nasr has already established himself as a consistent winner and champion. As he joins Team Penske this season, Nasr is ready to add to his success competing in the international World Endurance Championship (WEC), as he will race an ORECA 07-Gibson in the LMP2 class in 2022 alongside experienced and winning drivers Dane Cameron and Emmanuel Collard. Prior to becoming one of the world's elite sports car drivers, Nasr honed his skills in open-wheel racing and advanced through some of the top European development series on his way to competing in Formula One.
At just 16 years of age, Nasr won the Formula BMW Europe championship, as he produced five wins, six poles and 14 podium finishes in 16 races on his way to the 2009 title. Nasr followed that performance with a title-winning season in the 2011 British Formula 3 Championship, as he generated seven wins and 15 podium results over 30 races.
Nasr transitioned to racing in the ultra-competitive GP2 Series from 2012-2014. He enjoyed his breakout season in 2014 as he scored four wins and 10 podium finishes to claim third place in the season standings.
The Brazilian racer also earned an opportunity as a reserve driver for the Williams Martini Racing F1 team in 2014, which paved the way for a move to the Sauber F1 team. Competing for Sauber for the full 2015 and 2016 F1 seasons, Nasr recorded seven top-10 results while racing against the top teams and drivers in the sport.
With the introduction of the high-downforce, high-power Daytona Prototype International class (DPi), Nasr turned his attention to racing full-time in the United States with the IMSA WeatherTech SportsCar Championship. Maximizing his skills in high-downforce open-wheel cars to his advantage, Nasr teamed up with Eric Curran at Action Express Racing, as the duo won their first series race at Detroit's Belle Isle in 2018.
In his first full season of IMSA competition, Nasr captured the 2018 Driver's championship with Action Express Racing. In 2019, Nasr teamed up with Curran and Pipo Deran to win both the 12 Hours of Sebring and the 10-hour season-ending Petit Le Mans event. Nasr and Action Express finished second in the 2019 DPi championship to the Team Penske duo of Juan Pablo Montoya and the driver that would eventually become his teammate this season – Dane Cameron.
After a season that was disrupted by the global COVID-19 pandemic in 2020, Nasr returned to championship form in 2021. He and Derani won four of the 11 series races while producing eight podium results to claim the DPi title in what would become Nasr's final season with Action Express.
Away from the track, Nasr enjoys fishing, cycling and riding motorcylces and he continues to live in his native Brazil during the offseason.