Andre Lotterer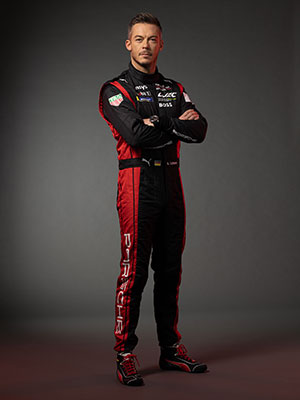 In his debut season racing for Porsche Penske Motorsport in the World Endurance Championship, Andre Lotterer will drive the No. 6 Porsche 963 LMDh Hypercar. Lotterer, three-time winner at the 24 Hours of Le Mans, will be paired with Kevin Estre and Laurens Vanthoor behind the wheel of the No. 6 PPM 963.

In 2017, Lotterer joined the Porsche family and he has been racing Porsches in Formula E over the last six years. He has produced eight Formula E podium finishes and will also race in the series in 2023, in addition to competing in WEC with PPM.

Lotterer has more than one place he calls home: In Germany, the town of Renningen is his first port of call, just a stone's throw from Weissach - where his mother's side of the family calls home. Alongside the family outposts and his testing and racing commitments, Lotterer commutes between his homes in Monaco and Belgium. After a year as a Formula 1 test driver in 2002, his life centred around Japan, where he drove in Formula Nippon (today Super Formula) and Super GT. He also made on start in CART/INDYCAR competition, racing at Mexico City in 2002.

In 2009, Lotterer returned to Europe, where he secured overall victory at the Le Mans 24 Hours three times. Lotterer claimed the 2012 WEC Championship behind three race victories. The Duisburg-born racer also continued to compete in single-seaters in Japan.

In 2014, Lotterer made a brief excursion into Formula 1, racing in the Belgian Grand Prix.